Space Invaders Multigame -- Game Selection
Selection Menu

The game selection menu is activated anytime by pressing both the and buttons at the same time.

To select the next game use the LEFT and RIGHT buttons to move up and down. Once the desired game is selected, press the FIRE button to start that game.

At the bottom of the screen is the configuration utilty. Pressing FIRE while "configuration options" is selected will cause a menu of configuration options to be displayed. See game settings for a detailed description of the configuration options.
Space Invaders Multigame -- Game Details
The Space Invader Multigame kit has a hardware limitation that limits the maximum number of games to 8. The 8 games included in the kit are:
Space Invaders
Space Invaders Deluxe
Jatre Specter
Lunar Rescue
Space Laser
Balloon Bomber
Galaxy Wars
Solar Fight
The following sections give brief descriptions of each game, links to various other sites, and 3 sample screen shots.
If you have any information or links to add please email with the details and I will include them. Thanks!
Space Invaders
Space Invaders
Space Invaders
Space Invaders

MAME rom name: invaders KLOV - Space Invaders
Space Invaders Deluxe
Space Invaders
Space Invaders
Space Invaders

MAME rom name: invdpt2m KLOV - Space Invaders Deluxe
Jatre Specter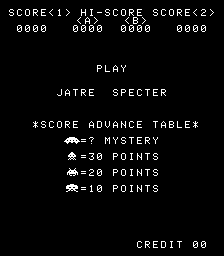 Space Invaders
Space Invaders
Space Invaders

MAME rom name: jspecter KLOV - Jatre Specter
Lunar Rescue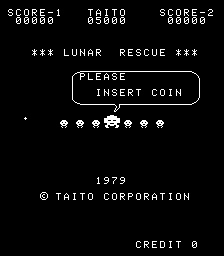 Space Invaders
Space Invaders
Space Invaders

MAME rom name: lrescue KLOV - Lunar Rescue
Space Laser
Space Invaders
Space Invaders
Space Invaders

MAME rom name: spclaser KLOV - Space Laser
This game is single player only
Balloon Bomber
Space Invaders
Space Invaders
Space Invaders

MAME rom name: ballbomb KLOV - Balloon Bomber
Galaxy Wars
Space Invaders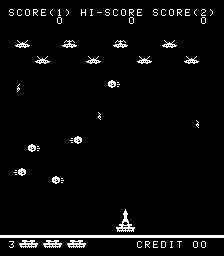 Space Invaders
Space Invaders

MAME rom name: galxwars KLOV - Galaxy Wars
Solar Fight
Space Invaders
Space Invaders
Space Invaders

MAME rom name: solfight KLOV - Solar Fight
Bootleg of Ozma Wars