Congo Bongo High Score Save Kit -- Free Play
The original Congo Bongo game does not have a freeplay setting. It does have an unlimited lives setting which is wrongly documented as free play in the manual.
This high score save kit adds true Free Play capability to the game which can be turned on or off via the coinage DIP settings.
Free Play operates just like you would expect. The text "CREDIT 00" is replaced with the text "FREE PLAY" at the bottom of the screen. Attract mode continues to operate in its full normal fashion.
Congo Bongo Free Play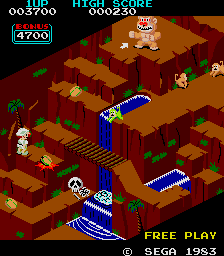 Congo Bongo Free Play
To start a game simply press P1-START or P2-START at anytime during attract mode. No coins required. No need to open your coin door.
This kit takes advantage of the coinage DIP combintions to provide a Free Play setting and to provide a Flip Screen setting. To turn on free play, set the coinage DIPs as indicated on the Congo Bongo Test Mode and DIP settings page.
Congo Bongo Free Play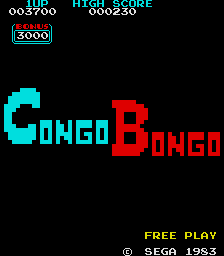 Congo Bongo Free Play